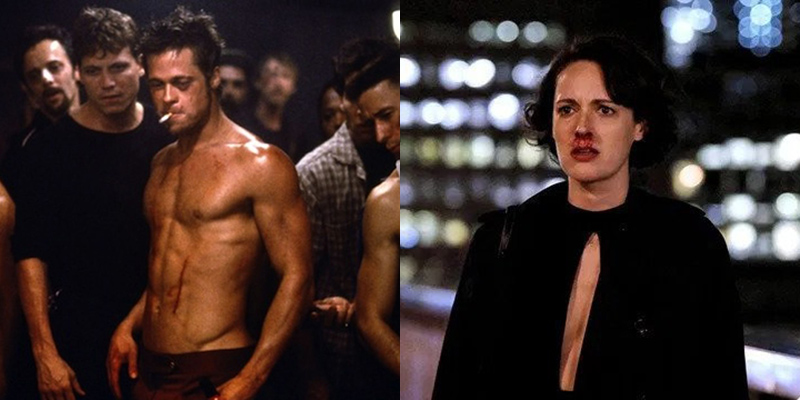 Phenomenal piece from
Sarah Gorr
on
"Fight Club", "Fleabag" and The Battle Against Toxicity
. Within the essay Gorr examines her affinity for
Fight Club
, the film's failure to stick the landing and how
Fleabag
both supports and supplants the ideas within.
I've always hated how
Fight Club
was co-opted by individuals that saw it as a Bible for "how men should be" but could never articulate it quite as well as Gorr has here:
At its core, Fight Club wants to be a skewering of both modern life and toxic masculinity. After all, in the end, the narrator not only rejects Tyler and his philosophy in favor of Marla and a future where he takes responsibility for his actions, he kills him. Tyler and his violent misogyny are rejected. Tyler dies. This is text. But it just can't help but feel like a half-hearted attempt at that text. In trying to skewer toxicity, it replicates it so seductively. Part of it is inescapably in the way Brad Pitt's magnetism radiates on screen. But Tyler also keeps offering these efficiently quotable little nuggets of violent anti-consumerist philosophy (many of which would later go on to be used by the alt-right).

...

As much as the film wants to criticize this desire, it yearns for it, too. Worse, it offers no real alternative. There's no real empathy in the film for Norton's growth, nor is there any real change in his character, he just keeps echoing the same vague notions that all this has gone "too far." So, of course, his words end up ringing hollow. Especially for a film that "kills" Tyler, but then still has him with us in a meta sense as he sneaks a few frames of a penis into the final shot. And it's all part of the reason the ending can't help but feel like a get out of jail free card; a limp in-text defense for a movie that's hellbent on having its cake and eating it too.
Absolutely. The film attempts to shine a light on all the things wrong with the kind of toxic masculine behavior it depicts but, in the end, just glorifies it.
It's an excellent read, particularly when she compares and contrasts the themes of Fight Club against the pain, the displacement and misbehavior of
Fleabag
. There's plenty of overlap but with quite different results.
TLDR: Do read.